PROGRAMME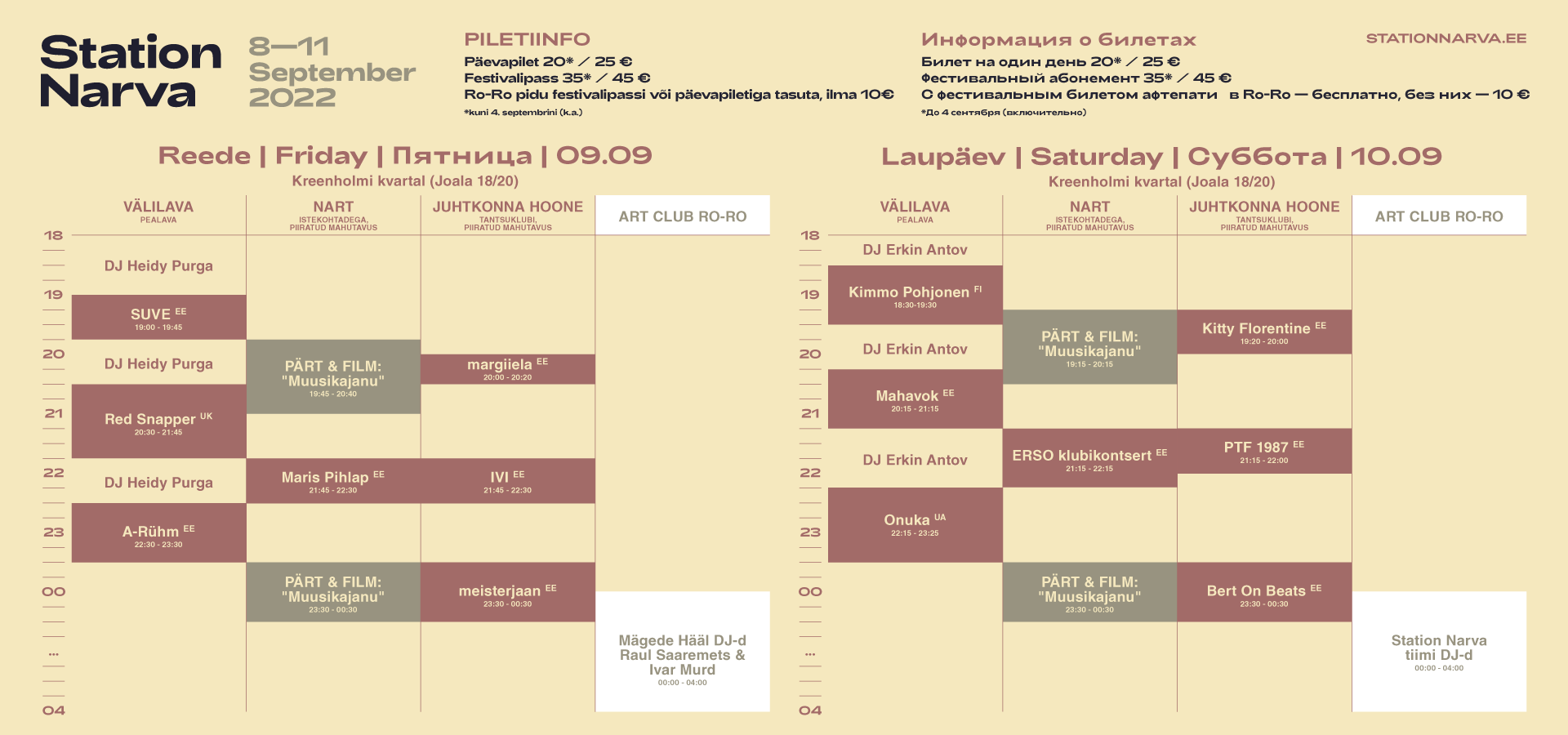 16:00 Opening of Station Narva 2022
NART (Joala 18)
Music by a resident of Narva Art Residency, Jacque Falcheti (BR)
17:00 – 19:00 BAZAR public discussion: Narva – what and who is it?
NART (Joala 18)
Station Narva 5 photo exhibition is open
Festival area (Joala 18/20)
14:00 – 18:00 OBJEKT Business Day: Co-creation
OBJEKT (Linda 2)
Attendance by pre-registration
Sponsors: RTK, StartupEstonia, German Embassy
14.00 Gathering, welcoming coffee
14.30 Welcoming speech by the Minister of Public Administration Riina Soloman
15.00 Inspiration speech by politician and creative entrepreneur Heidy Purga
15.30 Panel discussion
Liina Laas, partner at The Better Fund and Head of Expansion of Deel – financial tools of innovation
Darja Saar, Head of Public Relations and Sustainability of Coca-Cola HBC – corporate opportunities
Johanna Rannula, Head of Narva Art Residency – community tools
Sirli Rosenvald, Team Leader of Funky Foods – technology and innovation
Moderator: Eva Samolberg-Palmi, Editor in Chief of Virumaa Teataja
16.45 Interview: Michael Pärt, music producer and Chairman of the Council of the Arvo Pärt Center – interdisciplinary collaboration in film and music
17.15 Networking
18:00 – 00:00 Music programme on three stages in the Kreenholm quarter
Narva Art Residency (Joala 18)
Kreenholm Management Building (Joala 20)
Courtyard between the buildings
00:00 – 04:00 Afterparty: Mägede Hääl DJs
Art Club Ro-Ro (Jõe 3)
Attendance in the concert programme with a festival pass or day ticket, in the afterparty with a festival pass or a separate ticket priced 10€ (at the door)
Free city stage concerts
12:00 – 13:00 Home concert (Joala 11): Jaan Pehk
Limited attendance capacity
12:30 – 14:30 Gerassimov park (Joala 8c):
12.40 Zumba with Anna Markova!
13:20 ensemble Regatt
15.00 – 17:30 Community gathering in Narva Venice (Kulgusadama tee 5)
Boathouses, boat trips, fish soup and pizza straight from the oven!
Guests will be welcomed by artist Mohar Kalra (US)
16:00 – 16:45 Live: Cool D & DJ Critikal
18:00 – 01:00 Music programme on three stages in the Kreenholm quarter
Narva Art Residency (Joala 18)
Kreenholm Management Building (Joala 20)
Courtyard between the buildings
00:00 – 04:00 Afterparty: Station Narva team DJ-s
Art Club Ro-Ro (Jõe 3)
Attendance in the concert programme with a festival pass or day ticket, in the afterparty with a festival pass or a separate ticket priced 10€ (at the door)
11:00 – 12:00
Narva-style breakfast
VitaTiim (Tuleviku 7)
Festival wrap up at the non-formal learning center VitaTiim.
Breakfast tickets on sale at shop.tmw.ee
Thursday, 8 September – Sunday, 11 September
Photo exhibition: Station Narva 5
Festival area (Joala 18/20)
Curator: Anna Markova
For free
NART exhibition programme
NART (Joala 18)
Information at nart.ee
"Variables" – drawings on beechwood and textiles by Kadi Pajupuu and Marilyn Piirsalu
"Factory № 7 – Urban Utopia" documentary photo exhibition by Annela Samuel
Installation of bricks from Igor Kurov's collection
For free, excl. during the festival's music programme on Friday, 9 September and Saturday, 10 September from 18:00 to 01:00, when attendance is with a festival pass or a day ticket.
NART exhibition programme
NART Embassy in Narva Venice (Kulgusadama tee 5)
For free
Enrique Roura's (MX) bread oven and Maurin Bisigu's (CH) shelter and photos of Narva at night
Elizabeth Molina (MX) Narva Venice sounds and tales audio tour (accessible with QR code)
Guests are welcomed by anthropologist Kevin Molloy (IE) and artist Mohar Kalra (US)
Photo exhibition "Voice Spaces"
Narva College of the University of Tartu (Raekoja plats 2)
For free
The exhibition traces the creative processes of the Estonian Philharmonic Chamber Choir, including the performance of Arvo Pärt's "Da pacem Domine" in the Resurrection of Christ Orthodox Cathedral in May 2022 as part of the Tallinn-Narva Music Week. Photos by Anneli Ivaste, curator Kristel Schwede.
Guided tours by Narva Museum
Tickets only on pre-sale at fienta.com
-20% for Station Narva festival pass holders
Saturday, 10 September
Extreme excursion: Joala factory
11:00 in Russian, 13:00 in Estonian
Kreenholm's old gate (Joala 32)
Ticket: €25
13:00 Sacred Narva – in Russian
Narva Resurrection Cathedral (Bastrakovi 4)
Ticket: €15
Sunday, 11 September
12:00 Kreenholm: the history of the textile giant – in Estonian, Russian and English
Kreenholm's old gate (Joala 32)
Ticket: €15 / discount ticket €10
13:00 Excursion "Hidden symbols in the painting of the church" – in Russian
Church of the Narva Icon of the Mother of God (Rakvere 39)
Ticket: €15
Baltijets: a secret military factory in the heart of the city
15:00 in Estonian, 15:30 in Russian
Vaba Lava Narva (Linda 2)
Ticket: €15
Guided tour at the Narva Art Residency
(Joala 18)
15.00 in Estonian, 16.00 in Russian
Tickets for €1 on site
The project is supported by the Cultural Endowment of Estonia